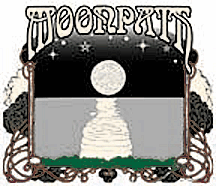 MOONPATH CUUPS OF FORT LAUDERDALE
Moonpath Children in this Place,
Together Weave our Sacred Space,
Mirth and Magick Call us Here,
Joined in Love, We Banish Fear.
Light this Candle, Burn it Bright, Push now Back the Walls of Night.
The Flame Inside Us, Set to Glow, Fan it Fast, and Watch it Grow.
We Meet Together, Once each Week, Answers, Questions, Friends, we Seek,
Life and Meaning; Frown and Grin, What We Seek is Found Within.
"Card Carrying,
Broom Riding,
Cauldron Stirring Witch!"
MOONPATH CUUPS AT A GLANCE
Fort Lauderdale and South Florida are home to people of several natural spiritual paths: Wicca, Heathenry, Paganism, and so much more. At Moonpath CUUPS we bring together many people who dance to the different beats of the sacred drum at our host congregation, the Unitarian Universalist Congregation of Fort Lauderdale. Come learn about us and see if the drums are calling you home.
With this gift I give to thee
Let it come back to me by the power of three
Blessed be, so mote it be
All donations to Moonpath CUUPs are shared with our host congregation, the Unitarian Universalist Congregation of Fort Lauderdale