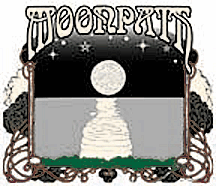 MOONPATH CUUPS OF FORT LAUDERDALE
Moonpath Children in this Place,
Together Weave our Sacred Space,
Mirth and Magick Call us Here,
Joined in Love, We Banish Fear.
Light this Candle, Burn it Bright, Push now Back the Walls of Night.
The Flame Inside Us, Set to Glow, Fan it Fast, and Watch it Grow.
We Meet Together, Once each Week, Answers, Questions, Friends, we Seek,
Life and Meaning; Frown and Grin, What We Seek is Found Within.
MOONPATH CUUPS AT A GLANCE
Fort Lauderdale and South Florida are home to people of several natural spiritual paths: Wicca, Heathenry, Paganism, and so much more. At Moonpath CUUPS we bring together many people who dance to the different beats of the sacred drum at our host congregation, the Unitarian Universalist Congregation of Fort Lauderdale. Come learn about us and see if the drums are calling you home.
Every Thursday at 7:30pm we meet at the UUCFL for different pagan-themed classes, meditations and rituals. Bring a healthy snack to share, an open mind, and come learn more about us and what we do. PLEASE NOTE WE ARE NOT MEETING CURRENTLY DUE TO COVID-19 but certain classes and rituals are being shared on our YouTube page. You can view them on this website or by subscribing to Moonpath CUUPs on youtube.com
We hold nine public rituals each year: one for each holiday along the wheel of the year, plus one New Year's Ritual. Beltane and Mabon are all-day events with vendors and activities, Yule is a half day event with Vendors and activities. PLEASE NOTE THAT ALL RITUALS HAVE MOVED ONLINE SEE OUR YOUTUBE PAGE IF YOU WANT TO WATCH
We offer ways to get involved with friends new and old throughout the year, from pagan-themed outings and events to supporting the community and world we live in with volunteer hours, donations, and awareness.
I found peace in a forest. I felt love by a stream. I dream in a meadow. I prayed by the ocean. I am a child of the Earth and the Goddess.
With this Gift I give to Thee
Let it come back to me by the Power of Three
Blessed Be
So Mote it Be
All Donations made on this website are shared with our host Congregation, the Unitarian Universalist Congregation of Fort Lauderdale